Happy Jeudi March : book your tickets for the Isle of Pines !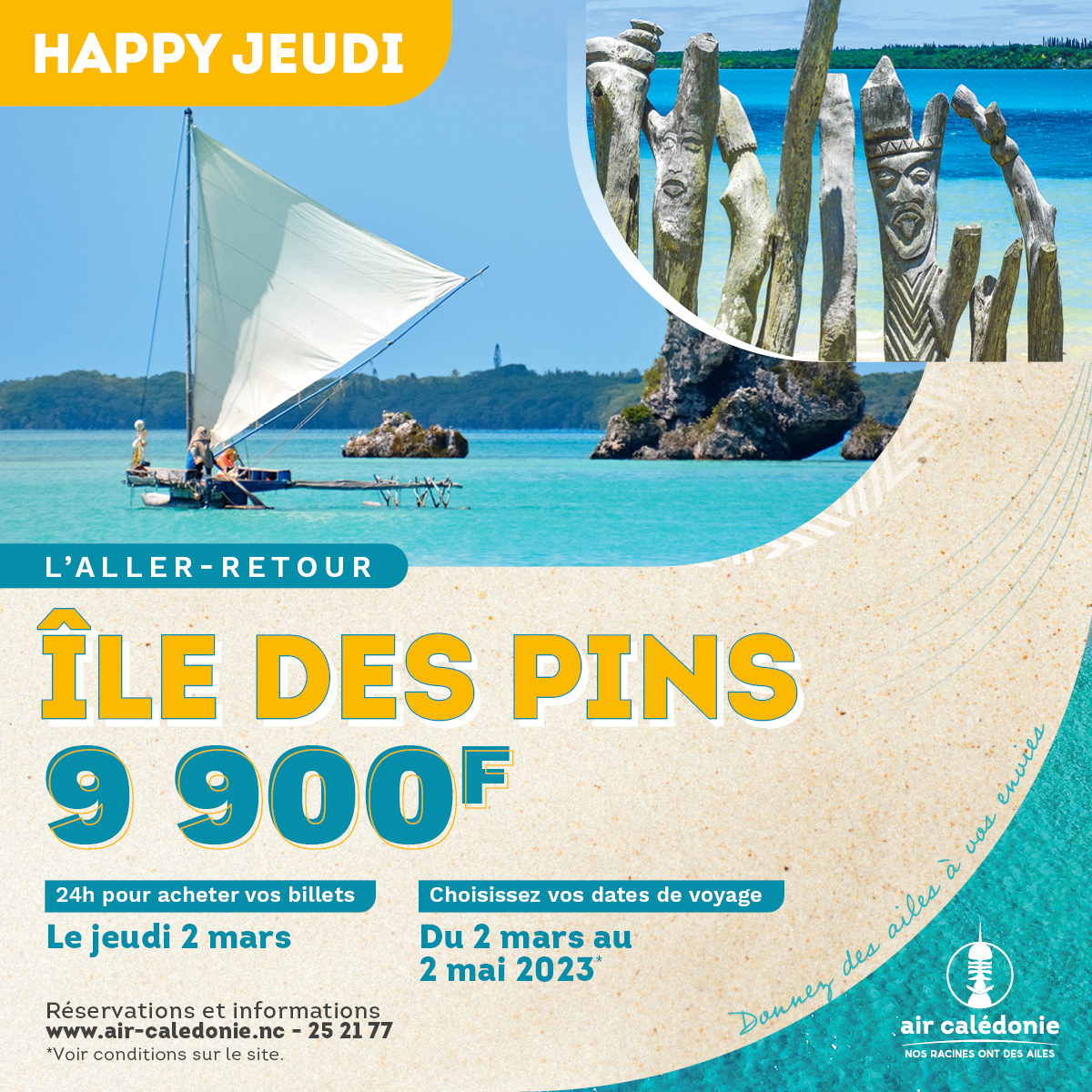 27 February 2023
Like every month, one of our destinations is honored on the occasion of Happy Thursday. This Thursday, March 2, book your tickets for the Isle of Pines at reduced prices!
Your trip for only 9,900F
If you have never had the opportunity to visit the Isle of Pines, this Happy Thursday is perfect!
The company invites you to discover the Isle of Pines by booking your return tickets at only 9,900F*.
Book this Thursday, March 2 and discover the kunié lands between March 2 and May 2, 2023. Like every Happy Thursday, you will only have a few hours to take advantage of it because the offer only lasts 24 hours. Don't wait : the first to book will have the choice of dates. The best availabilities are taken by storm as soon as the offer is published, so don't delay.
*Promotional offer sold exclusively on Thursday, March 2, 2023. Return rate per adult – 1 night minimum, 21 days maximum – Immediate payment – non-refundable – non-modifiable – cannot be combined with another rate – subject to availability during the period indicated – Amount including tax excluding service charges.
The Isle of Pines: the dream destination
The Isle of Pines is full of treasures and promises you an enchanting journey in the image of its landscapes. Take advantage of Happy Thursday to discover the jewel of the Pacific!
Activities abound on the island. You will be able to sail in a traditional canoe in the bay of Upi, contemplate the totems that watch over the Bay of Saint-Joseph and make unforgettable encounters at Ilot Brosse, known for the richness of its underwater fauna. For the more athletic, let yourself be tempted by a hike to Pic N'Ga. After a good hour of ascent, you will enjoy a breathtaking view of the Isle of Pines and its bays. On foot, you can also walk along the twin bays with fine sand, Kuto and Kanuméra. Make a stop there at sunset, it's worth the detour! In addition to the richness of its natural heritage, you will also appreciate the unfailing hospitality of the Kunié, inhabitants of the Isle of Pines. So what are you waiting for?