Happy Thursday, September 7th: Fly to Maré !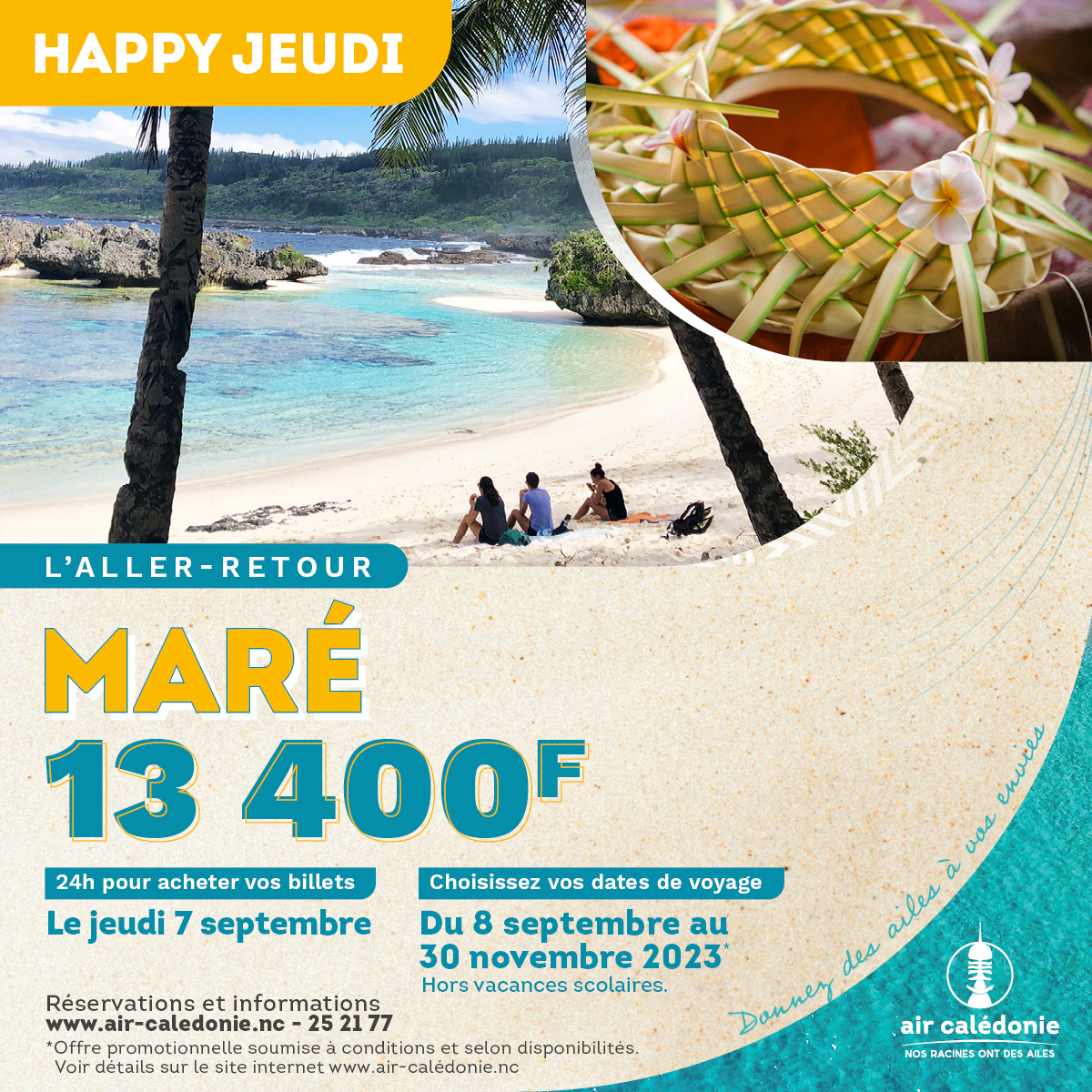 5 September 2023
Happy Thursday is making its comeback on September 7th, and Maré is in the spotlight!
On Thursday, September 7th, book your discounted tickets and take off to Maré!
Take advantage of Happy Thursday and embark on a journey to discover Maré! The airline invites you to reserve your round-trip tickets on Thursday, September 7th, for travel between September 8th and November 30th, 2023. For this special occasion, enjoy an unbeatable fare: 13,400F* round-trip. As usual, this offer will only last for 24 hours, so make sure to take advantage of it as soon as it becomes available.
*Promotional offer exclusively available on Thursday, September 7th, 2023. Round-trip fare per adult – minimum 1 night, maximum 21 days – Immediate payment – non-refundable – non-changeable – cannot be combined with another fare – subject to availability during the indicated period – excluding school holidays – Total amount including taxes, excluding service fees.
How to make a reservation?
To enjoy Happy Thursday, go directly to our website! The Happy Thursday rate is available in our booking system. Select your travel dates within the specified period (from 09/08/23 to 11/30/23) and choose the rate from the "Promo" column on the left. You can also get in touch with our sales teams, who will be delighted to assist you by phone at 25 21 77 or in person at the Vallée du Tir or Wé (Lifou) agency.
Listen to Maré, the island that speaks to your heart
Don't know Maré yet? This is the perfect opportunity to discover the wildest island in the Loyalty Islands! Maré is rich in natural treasures: Bone Hole, the natural aquarium, the Warrior's Leap… You'll make wonderful discoveries while exploring the Nengone region. You'll undoubtedly appreciate the authenticity and hospitality of the island's inhabitants. What are you waiting for?