Happy Thursday November 3: we're off to the Isle of Pines!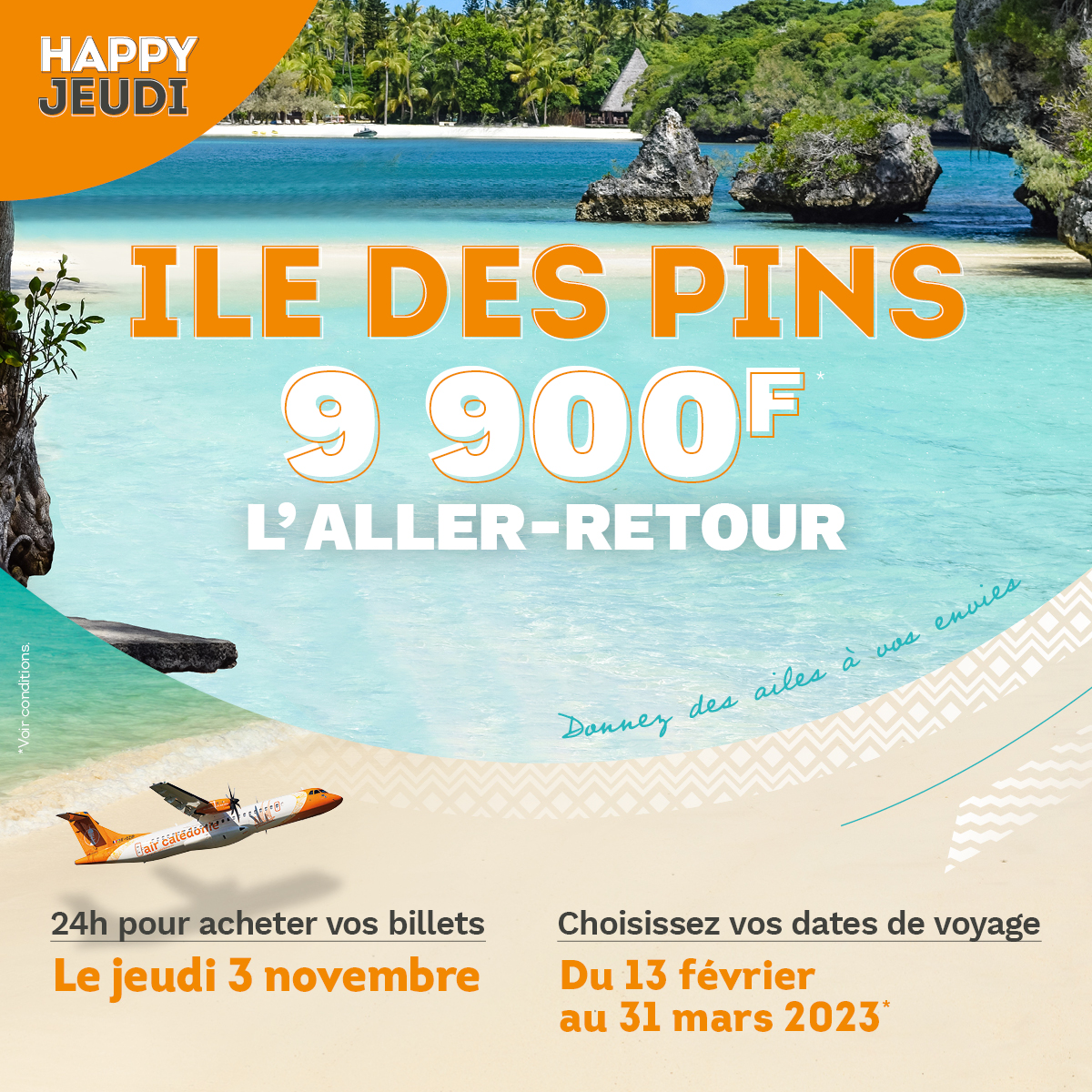 31 October 2022
Like every beginning of the month, Air Calédonie makes you happy! This Thursday, November 3, book your tickets for the Isle of Pines at an unbeatable price for Happy Thursday.
The Isle of Pines for only 9,900F*
If you don't yet know the pearl of the Pacific, this Happy Thursday is right on time!
The company invites you to discover the Isle of Pines by booking your return tickets at only 9,900F*. An opportunity not to be missed ! Book this Thursday, November 3 and discover the kunié lands between February 13 and March 31, 2023. Like every Happy Thursday, you will only have a few hours to take advantage of it because the offer only lasts 24 hours! So don't delay: the tickets on sale are taken by storm from the first minutes after the publication of the offer.
*Promotional offer sold exclusively on Thursday, November 3, 2022. Return rate per adult – 1 night minimum, 21 days maximum – Immediate payment – ​​non-refundable – non-modifiable – not combinable with another rate – subject to availability during the period indicated – Amount including tax excluding service charges.
The Isle of Pines: the dream destination
The Isle of Pines, also called the "Pearl of the Pacific" promises you an enchanting trip, just like its lagoon and its landscapes. On the main island, sail on a traditional canoe towards the natural swimming pool in Oro Bay. Unforgettable encounters await you: endemic corals, fluorescent giant clams and fish of all kinds. You can also walk along the twin bays with fine sand, Kuto and Kanuméra. Make a stop there at sunset! In addition to the richness of its natural heritage, you will also appreciate the unfailing hospitality of the Kunié. So, are you booking your tickets?