Air Calédonie and Aircalin sign a code share agreement
21 December 2022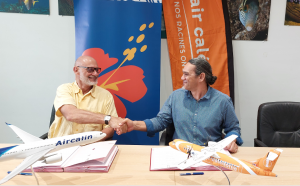 After two years of work between the two Caledonian companies, Aircalin and Air Calédonie have signed a code share agreement which strengthens the partnership between the two companies.
The code-share between Air Calédonie and Aircalin
This large-scale project first required significant preparation and testing work in order to be able to apply the negotiated agreement. It is now done. This new code-share agreement will then allow the two companies to share its code on flights operated by the other company.
Offer new destinations to international customers
Concretely, during the 1st quarter of 2023, Aircalin will be able to sell tickets on Air Calédonie domestic flights directly to its foreign customers and on its own flight number. For example, an Australian customer will be able to buy a Sydney-Lifou on an Aircalin flight number from start to finish, with an itinerary in the same booking file and on the same transport contract, from a single travel agency. This represents a real opportunity to develop international tourism sales for Air Calédonie in particular and for New Caledonia in general. The customer will have a simpler and above all more integrated service, allowing him to prepare his stay serenely.