Heavy rain and thunderstorm warning : flight program changes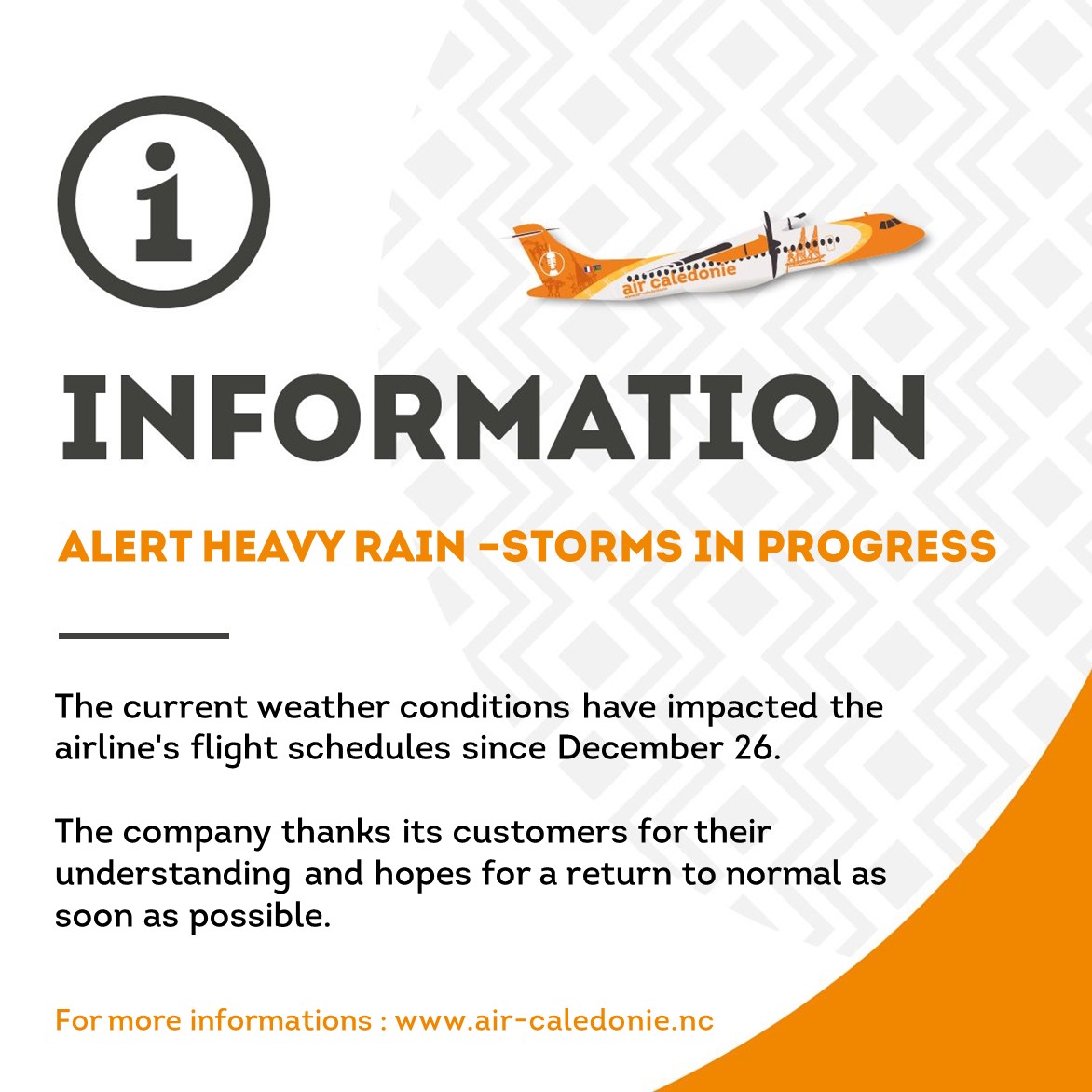 27 December 2022
The current weather conditions have impacted the airline's flight schedules since December 26.
Several flights were cancelled, other flights were delayed and some planes, due to the impossibility of landing on the Magenta runway, had to land at Tontouta.
In order to ensure a maximum of flights while guaranteeing the safety of passengers and crew, the company is forced, in such circumstances, to reduce its carrying capacity. This means that the weight of the aircraft must be lightened to allow take-offs and landings and in fact, non-priority freight packages remain on the ground, and certain passengers and/or baggage can be disembarked.
In this particularly busy holiday season, the company has committed all its resources to meet the high demand and thus has few resources to hire additional flights.
Thereby :
In case of cancellation of your flight: you will be notified by text message and transfer solutions will be offered to you as soon as possible according to the possibilities. The company recommends to its customers, given this exceptional situation, to postpone their trip as far as possible. All tickets can be postponed without penalty from December 26 to 28 inclusive, in the same price category as initially reserved.
These changes can be made by email (vente@air-caledonie.nc) or by telephone with our agents on 25 21 77.
In the event of unloaded baggage: the company apologizes for this inconvenience and does everything in its power to redirect it to its destination as quickly as possible. Nevertheless, given the situation, these reroutings will not be able to take place before 28/11.
Do not hesitate to ask the staff of the company of your stopover in order to obtain more information.
The company thanks its customers for their understanding and hopes for a return to normal as soon as possible.