Loyalty Islands Air Calédonie Triathlon: Registrations are open!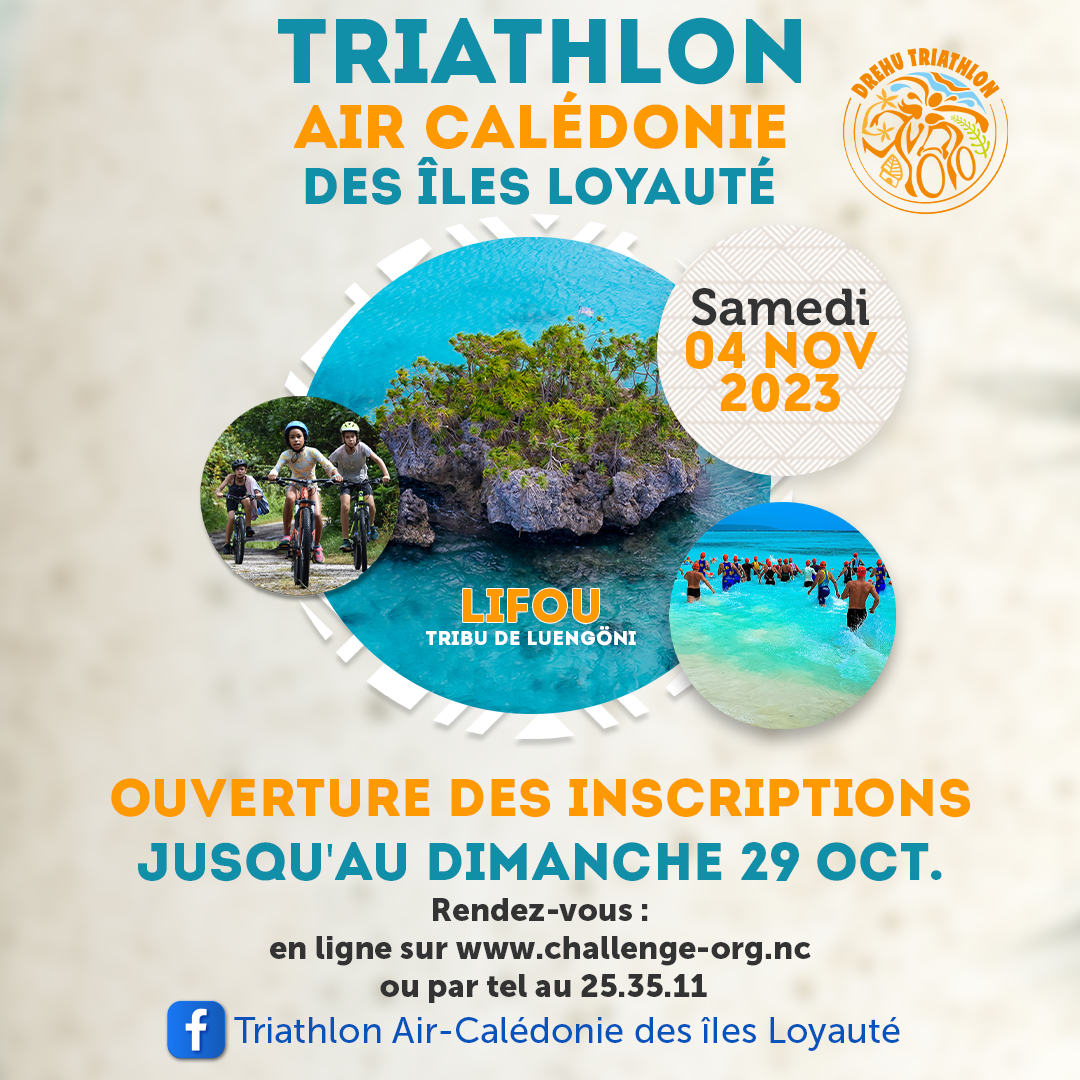 9 August 2023
This year, the Loyalty Islands Air Calédonie Triathlon will take place in Lifou on Saturday, November 4th, and registrations are already open!
An extraordinary course awaits you
In partnership with Challenge Organisation and the Drehu Triathlon association, the 2023 edition of this sports event guarantees unforgettable moments, combining swimming in the crystal-clear waters of the lagoon, running on the white sand, and cycling along the cliffs of Lifou. The course will truly amaze you!
Triathlon participants ready to take on the challenge will start from Luengöni Beach, with three race formats. The XS format features 375m of swimming, 10km of cycling, and 2.5km of running. The S format includes a 750-meter swim, a 20-kilometer bike ride, and a 5-kilometer run. For more experienced athletes, the M course offers a 1.5-kilometer swim, 40 kilometers of cycling, and a 10-kilometer run. Our young athletes aged 6 to 13 will also compete on age-appropriate courses.
The perfect opportunity for a family weekend
Both young and old can enjoy a weekend filled with emotions at the Luengöni tribe. After the competition, the entire family is invited to join the beach festival. This event, organized by the Islands Province, will allow you to discover Lifou and its craftsmanship. Enjoy musical entertainment, take part in guided tours, explore local products, and savor the cuisine from the onsite food stalls.
Useful information
Air Calédonie is pleased to offer you a 15% discount on round-trip tickets to Lifou. To avail this offer, once you have completed your registration, the organizing team at Challenge Organisation will provide you with a discount code to use when booking your tickets. You can reserve your flight tickets directly through our team at the following email address: vente@air-caledonie.nc, by presenting your registration confirmation and promo code.
The ball is in your court!