Raid Air Calédonie on the Isle of Pines: Get ready with your running shoes!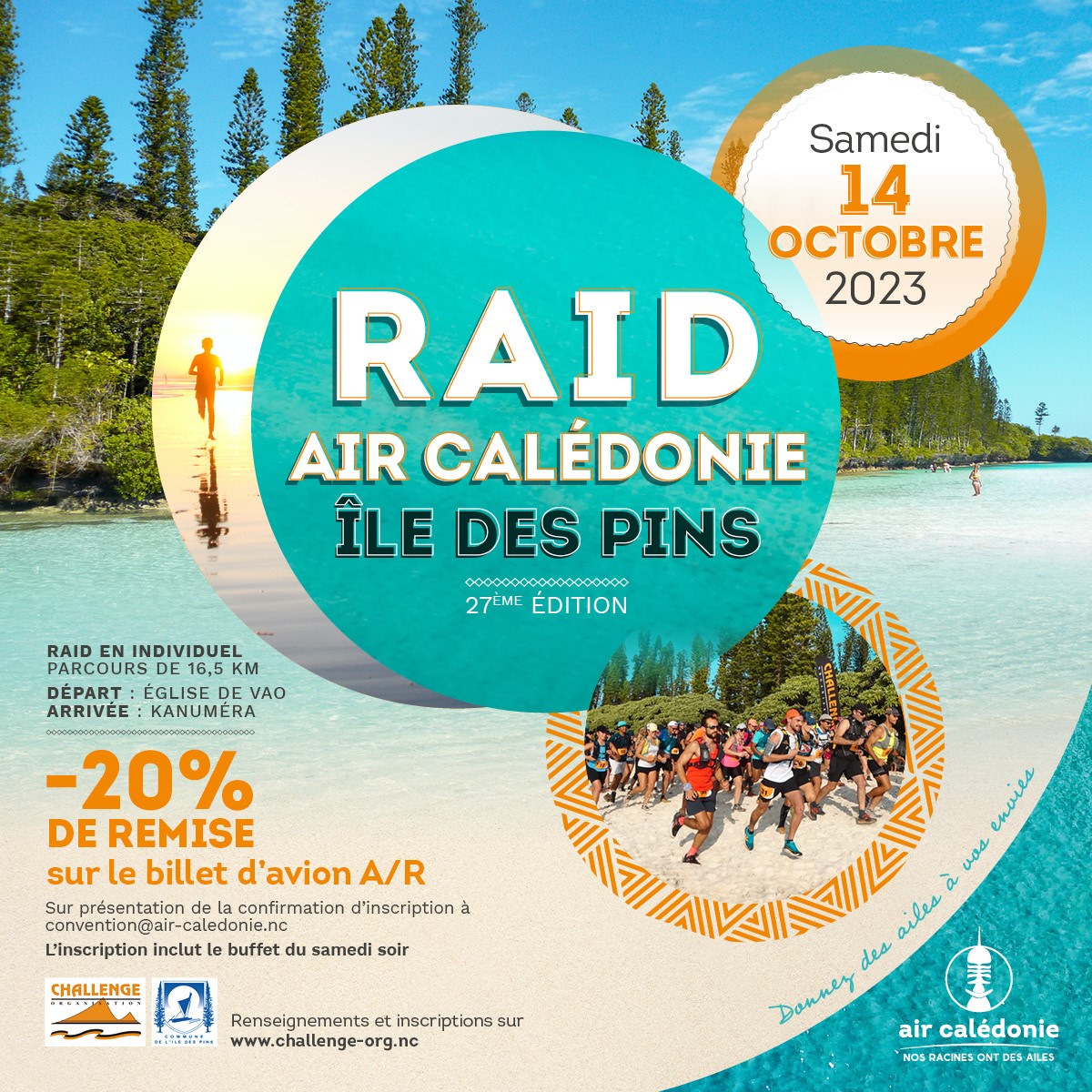 18 July 2023
As every year, Air Calédonie invites all running enthusiasts to the Air Calédonie Raid on the Isle of Pines. This year, the Raid will take place on October 14th, and registrations are already open!
An extraordinary route and a wonderful weekend of discoveries await!
The 27th edition of the Air Calédonie Raid on the Isle of Pines remains faithful to previous editions by offering a breathtaking course! On Saturday, October 14th, nearly 200 runners will kick off their weekend with a 16.5 km course, allowing them to appreciate the landscapes from the N'Ga Peak and the Kunié beaches. As usual, the departure will be from the Vao church, and the race will finish in the magnificent Kanuméra Bay, in front of the Nataïwatch lodge. It promises to be a great challenge with friendly moments centered around sporting values.
In the evening, a buffet will be available. After this intense first day, Sunday will be dedicated to relaxation and enjoying the island and its activities: snorkeling in Kanuméra Bay, leisure time in Kuto, or exploring the natural pool in Oro! There's nothing better to conclude the weekend.
Good to know
While the adults are sweating it out, the little ones can be taken care of at the starting point. Indeed, a daycare service is offered at the Vao church, and then the children are transported to the race's finish line by the organizing committee. This service will be payable directly on-site, 1000 F XPF/child.
Haven't booked your plane tickets yet? Air Calédonie offers a 20% discount on round-trip flights upon presentation of the Raid registration receipt when requesting your ticket reservation at vente@air-caledonie.nc.
Now all that's left is for you to train. It's your turn to take part!