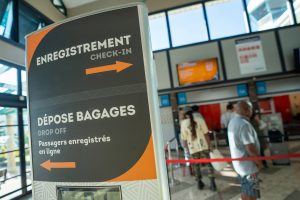 Check-in counters are open 70 minutes to 30 minutes before your flight.
Passengers who require special assistance are invited to present themselves as soon as the counters open in order to allow appropriate care by our teams.
Passengers traveling only with carry-on luggage must also present themselves at the check-in counter with their proof of identity to obtain their boarding pass. We particularly encourage them to register online to save time.
Good to know
Luggage
If you are connecting on our flights, check-in will take place at the point of departure until the final destination.
The minimum connection time between 2 flights is 30 minutes.